Operational Questions about e-Giving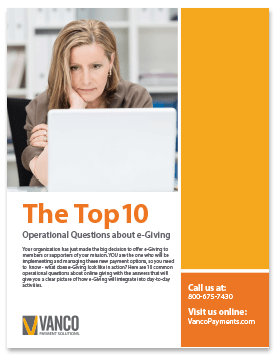 Quickly discover just how easy it is to integrate e-Giving into your day-to-day activities


Our Top 10 Operational Questions about e-Giving is filled with simple answers gleaned from 15+ years of experience working with more than 18,000+ churches.
This guide provides answers to questions like:
- What kind of training and support will I need?
- Are reporting capabilites simple and straightforward?
- How do I promote online giving to members?