Leaving the Comfort Zone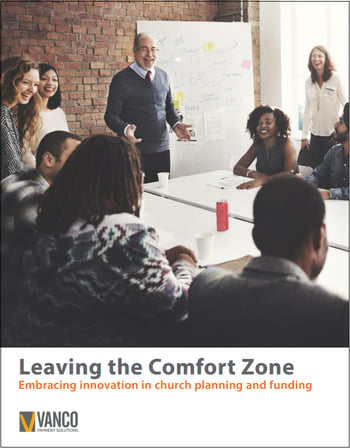 Embracing innovation in church planning and funding.
Act Today to Create a Thriving Church for Tomorrow
Helping a church maintain and grow its ministry involves more than just great Sunday sermons. It takes a willingness to innovate and embrace change — not for change's sake, but when it's necessary to survive and thrive.
Our whitepaper, Leaving the Comfort Zone: Embracing Innovation in Church Planning and Funding, will help you consider what you need to do differently at your church — and how to do it. The paper discusses four steps to create and support a thriving ministry:
Breaking Habits. A look at church traditions shows how they've changed over time — including how churches are funded
Improving the Giving Experience. Offering electronic giving makes it easier for members to act
Integrating Software. Working together, church management and electronic giving software can ease administrative burdens
Using Data Analytics. An integrated system contains a wealth of insights within its data
To get started, download the whitepaper today!
For more great information on e-Giving and Church growth, visit our Faith-Based Resources page.