40 % Total Donations from e-Giving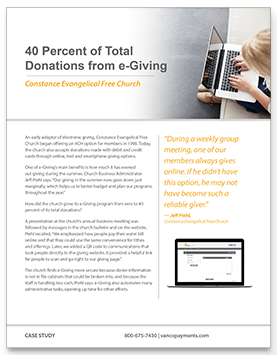 This Church took e-Giving to 40% of their donation plate!
Check out the top success strategies that led to this huge growth. The strategies were not complicated and expensive campaigns; rather, they were simple and effective steps.
Download this case study to learn:

- How e-Giving is attracting new givers
- Ways to successfully promote e-Giving
- How e-Giving increases and evens out cash flow
Don't let them have all the fun. Read the full case study and begin your own success story today!