Growing Giving Through a Kiosk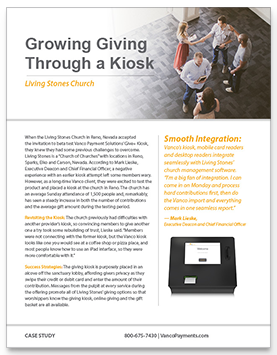 Living Stones Church increases contributions and pleases members
Living Stones Churches recently accepted our invitation to try Give by Kiosk. Members are lining up to use it before and after services, and contributions are steadily increasing.
Uncover their success strategies for:
- Making the kiosk easy to find
- Squeezing efficiency through reporting and integration
- Pleasing members with the easy-to-use iPad interface and built in printer
Download now to learn how Give by Kiosk is convenient for both members and staff.