Everyday Opportunities for e-Giving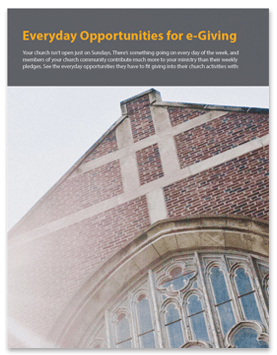 Electronic giving fits comfortably into your congregation's daily lives. See the many opportunities members have to use e-Giving options in their active church lives.
e-Giving works for your church every day of the week
Your ministry isn't limited to what happens at your church on Sunday mornings. There's something going on in your church community every day of the week, and members of your congregation are often moved to contribute outside of their weekly pledges at services.
e-Giving solutions like text and kiosk that process credit and debit card transactions offer your members and guests the opportunity to give in the moment, simply and securely. Offer them the opportunity to give every day in a way that's modern, convenient and comfortable.
Fill out the form to download our infographic, Everyday Opportunities for e-Giving, to learn more.