Breaking Down the Barriers to e-Giving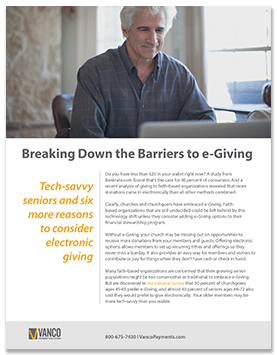 Increase your opportunity to receive more donations
e-Giving is a valuable and growing resource. Faith-based organizations could be left behind by this technology shift unless they and their congregations consider combining e-Giving along with traditional methods. To help break down the barriers that may be keeping your congregation from increasing the donation plate, read this article that addresses seven common concerns that have taken on near-mythical status.

Here are some of the questions this article will help answer:
- Is e-Giving Complicated?
- Is e-Giving Safe?
- Will e-Giving make it hard to track payments per donor?
For more great information on e-Giving and Church growth, visit our Faith-Based Resources page.